​Mondev Bucks Montreal Housing Decline With Flurry of New Builds

Mondev's ongoing projects in Montreal include this major apartment building at the corner of Papineau and St. Catherine. (CoStar)
Company Braves Montreal Doldrums To Launch Eight Projects To Supply Hundreds of Apartments
October 9, 2023 | 7:56 p.m.
Real estate developer Mondev is on a blazing pace to complete hundreds of residential units through eight projects over the next 24 months at a time when other Montreal developers are sitting on the sidelines and the city endures a nosedive in new apartment starts.
Mondev's total number of upcoming builds contrasts a staggering 58% decline in new apartment starts in Montreal during the first six months of 2023 as compared to one year earlier, according to numbers released last week from the Canada Mortgage and Housing Corp.
Mondev, which was founded by brothers David and Michael Owen, broke ground on three projects in August, which will add a combined 27 floors and 678 much-needed rental units during a time when the city's housing supply has been pressed to its limits with a residential vacancy rate of under 2%.
Mondev broke ground in August at:
Other ongoing projects are located at:
Lest the flurry of Mondev's builds be viewed as an endorsement of Montreal's current real estate situation, company brass points out that the undertakings are only possible because they are being built on land purchased a lower prices than today's market. Indeed, Mondev has not purchased land in the city in several years.
Mondev is building this apartment building on tiny Hunter St. in Griffintown just south of the downtown core. (CoStar)
Mondev found bargains by acquiring land that was zoned commercial and then getting it rezoned to residential. The process required patience and plenty of rejections from city officials.
"We applied right away, got rejected, applied again and got rejected," said Mondev's Jordan Owen. "You have to find ways to unblock it and then you find solutions."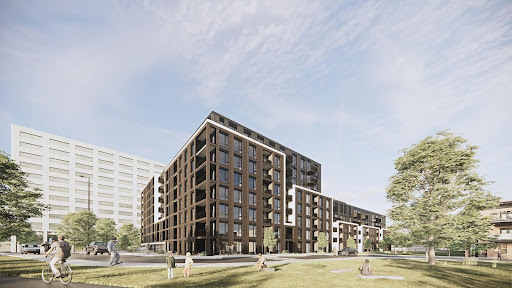 Mondev's project on Fullum St. sits east of the Jacques Cartier bridge. (Mondev)

The rezoning process adds significant value to property but is also onerous and time consuming. "It's very complicated and very slow, that's why it takes five to 10 years sometimes," said Owen, who notes that Mondev now considers rezoning initiatives as too risky to pursue because of the current political and economic climate.
Owen said the only reason Mondev has shovels in the ground is because of those bargain purchases. "The land was relatively cheap and significantly cheaper than what the market is paying now. It's the only reason we have these projects going. If we started these files today, they would be extremely difficult," said Owen. Mondev aims to complete 14 projects in its current pipeline and hopes that the current housing squeeze might make city officials more receptive to residential builders. "Montreal as a city was very anti-development for many years and now we have seen the repercussions of it with the current shortage of housing. That translates into massively increased housing costs, which is not good for citizens nor developers," said Owen.