MONDEV, International Property Award Winner
The International Property Awards are accessible to real estate professionals in residential, commercial, and hospitality sectors worldwide. They recognize and honour the exceptional accomplishments of businesses operating in every aspect of the real estate industry.
These awards are categorized into regions covering Africa, Asia Pacific, Arabia, Canada, the Caribbean, Central and South America, Europe, the United Kingdom, and the USA, highlighting MONDEV's global reach. Participants submit their entries at the national level corresponding to their location, and their submissions are evaluated by a team of professionals with expertise in various property-related fields, including developers, architects, interior designers, and real estate experts.
On September 22, MONDEV was awarded not one but two awards at the AMERICAS PROPERTY AWARDS.
GRIFFIN SQUARECondo Rentals is an Award Winner for the category Apartment/Condominium Development in Canada and MILHAUS Condo Rentals has been given the additional awards of 5 Star Winner and Regional Nominee.
MILHAUS Condo Rentals is now classed as Best in Canada in that category and will be judged against other Regional Nominees from USA, Caribbean, Central and South America.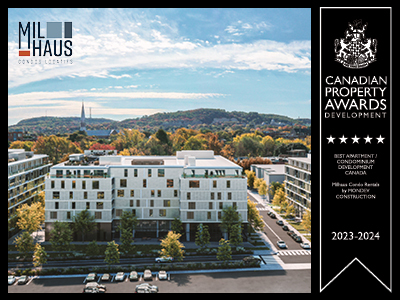 This unprecedented achievement speaks volumes about the dedication and expertise that every team member across all departments has contributed.
Stay tuned and we will advise you if we are a regional winner for the America's Property Awards after the judging in December.
The Regional Winner can potentially receive a Best In World Award at the International Property Awards.
Congratulations to the MONDEV Team!