How we styled this NüBerri 2-bedroom model condo & tips for you!
NüBerri, like the name suggests, is a new and trendy development on Berri Street in the heart of Ville-Marie. Of course, the model condo's design inspo must follow suit. See howNiki Panagiotopoulos brought textures to life in the expansive space and helped the eye bounce from one piece to the next. Leather, metal, wood, and soft accents made each room feel sophisticated yet trendy and modern. Take for example the living room: a leather couch with metal trim and a wooden chair with plush accessories, surrounded by lighter-colored paintings, accents, and décor. Timeless, comfortable, and on-brand for the development's vibe: effortlessly cool.

Here are the 6 must-have textures to use in your downtown Montreal condo, and make sure to follow Niki's Instagram for all her design tips!
1. Leather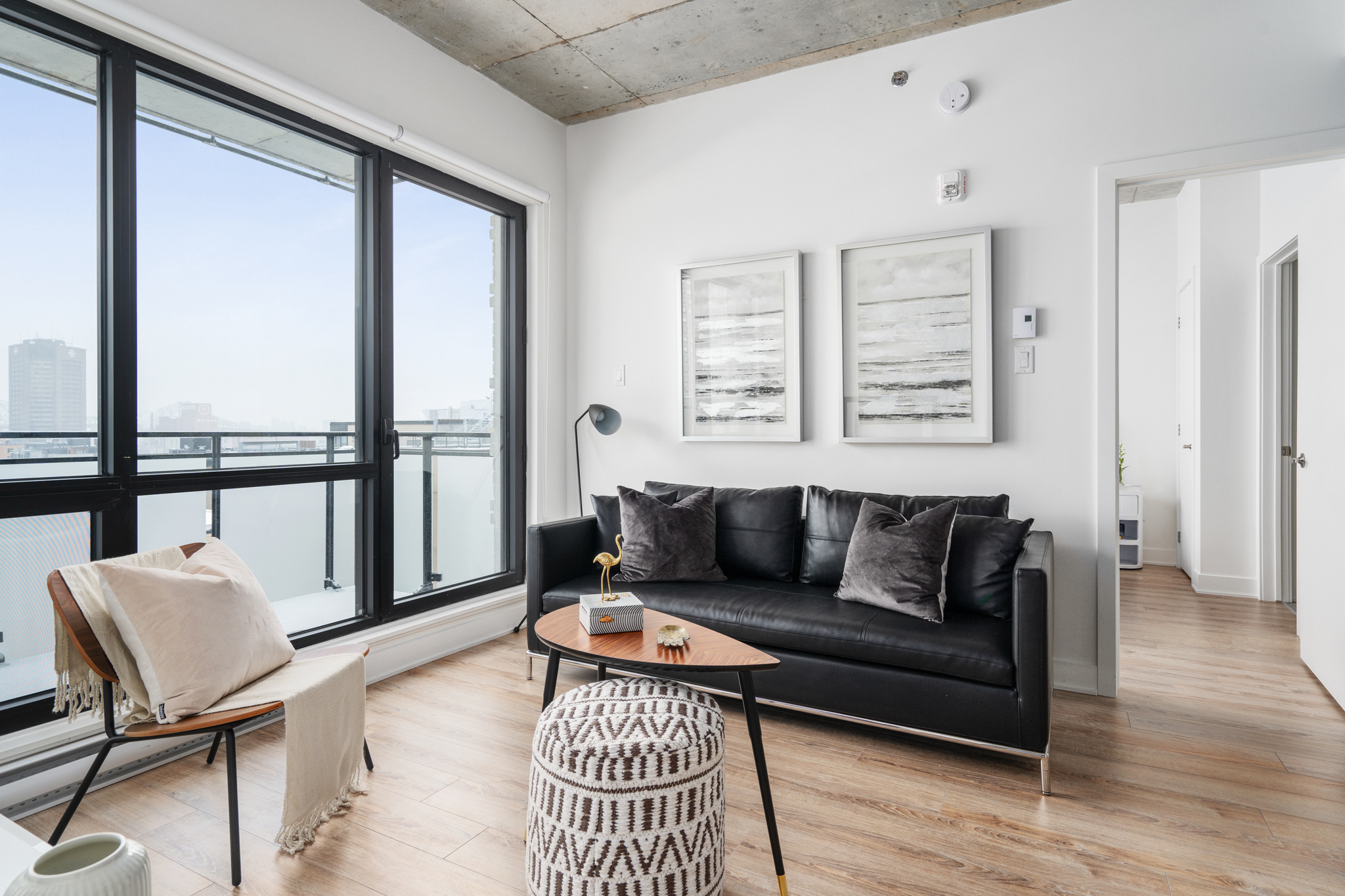 The classic leather couch: an icon, a staple, it is the moment. Of course, there are functional benefits like its durability and comfort, but the true marking of a chic downtown apartment will always be the leather couch, or any leather seating, really. Be it an accent chair, a pillow, or even a pouf, you can't go wrong with introducing these items in leather to sharpen your condo's look.
2. Wood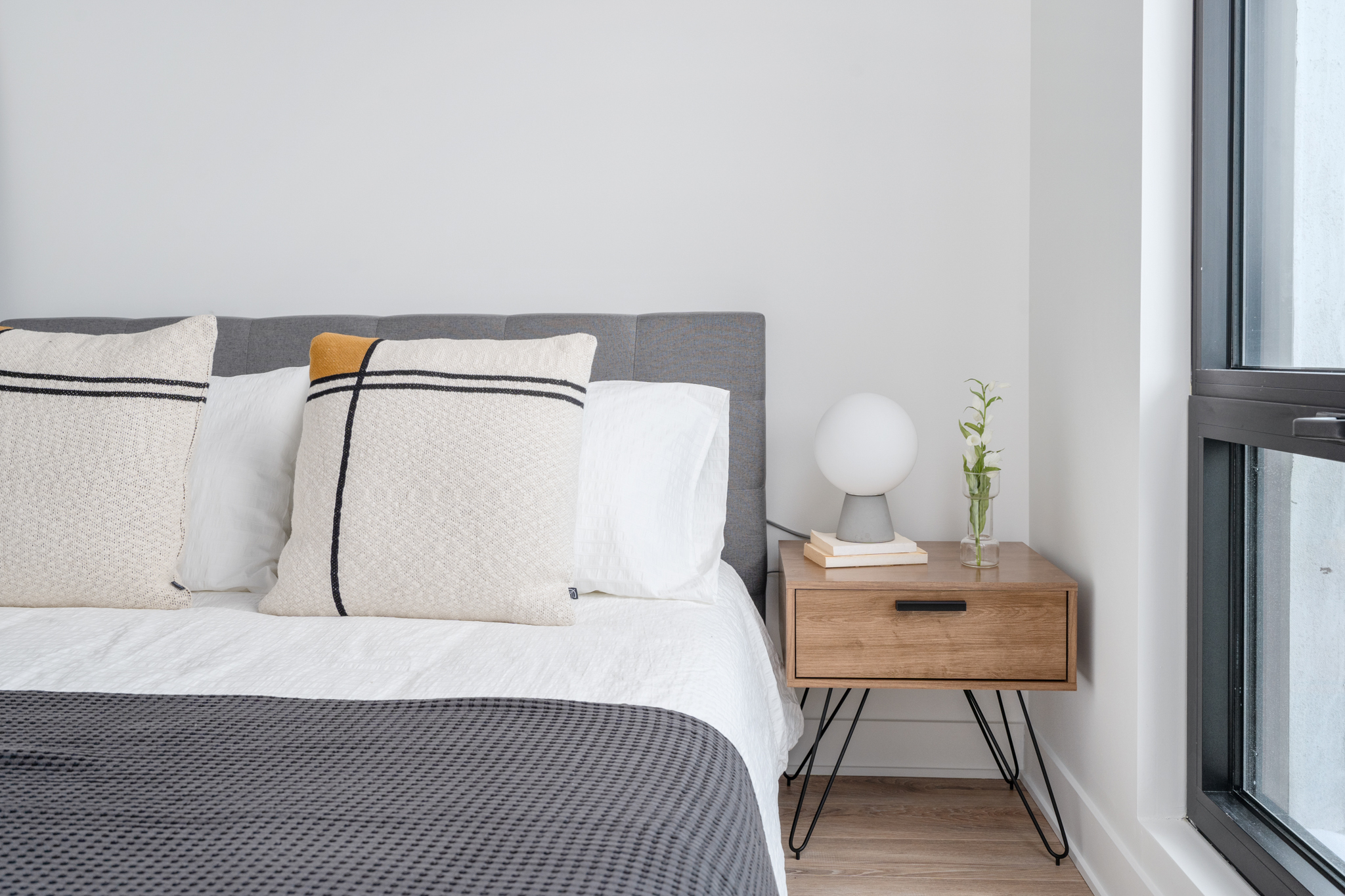 Wood just exudes warmth and comfort. Although most apartments have wood floors or wood-inspired flooring, adding this texture to other pieces in your home soften the space and introduce that warmth in different dimensions and along different levels.
3. Metal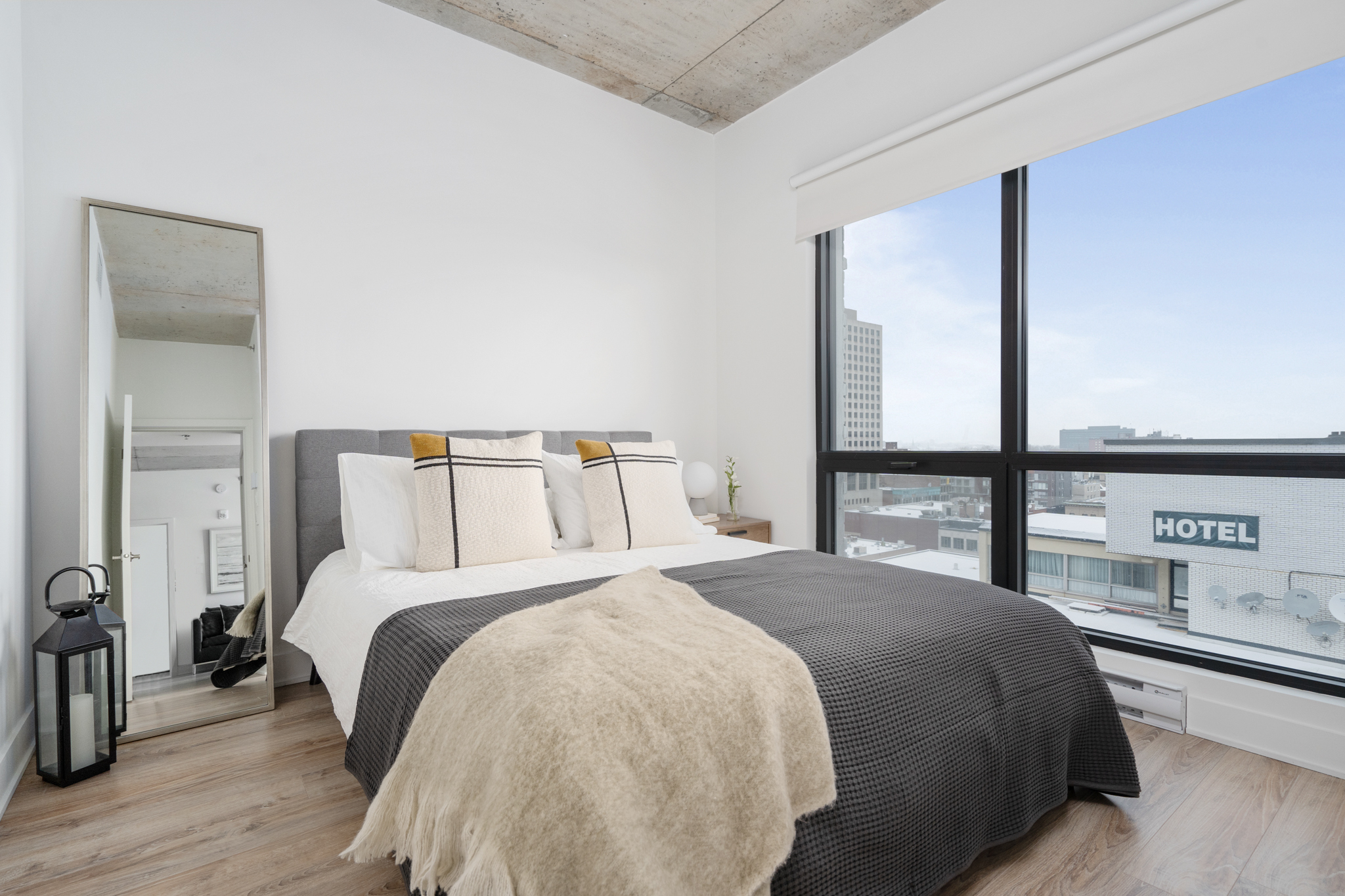 Though subtle, metallic accents of any color can create such a contrast to the existing textures in a space without overpowering the aesthetic. This lantern adds a level of sophistication and whimsy to an almost too-perfect bedroom.
4. Glass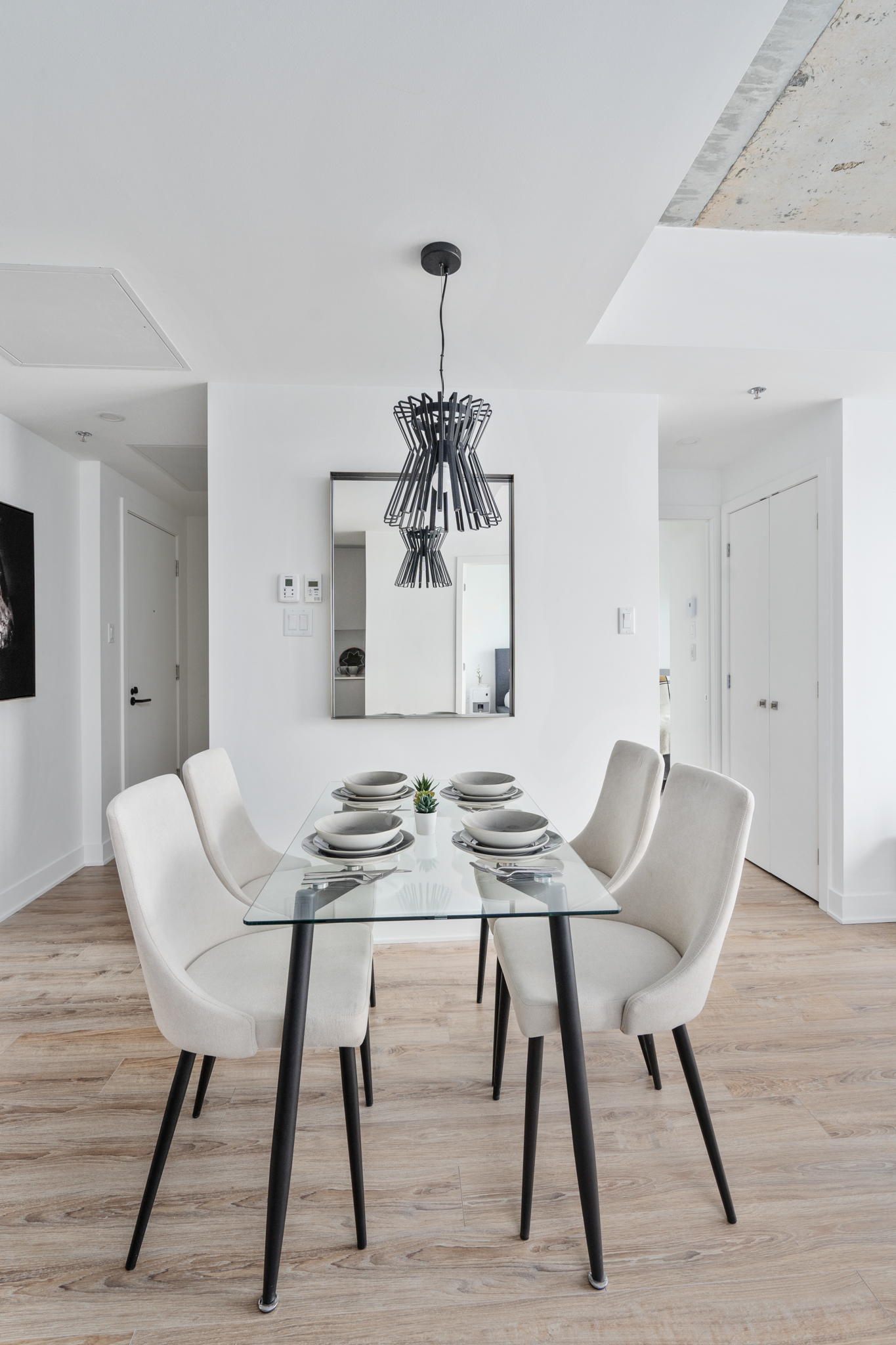 Glass is wonderful at providing sturdy and elegant structures that allow the space to stay light, airy, and unobstructed, as the reflection of the glass helps bounce light around. In the instance where a dining room is directly off the entrance, a see-through table with light chairs help facilitate the entry into the condo and avoids an abrupt halt after the hallway.
5. Fabrics
As Shrek once said, something something… layers? Fabrics love layers! No better place to take advantage of the concept than a bed. From sleeping pillows, to accent pillows, to duvets and throws, you cannot go wrong or too overboard. This is the easiest way to introduce new colors to your room's palette and new textures for more depth.
6. Gold or Silver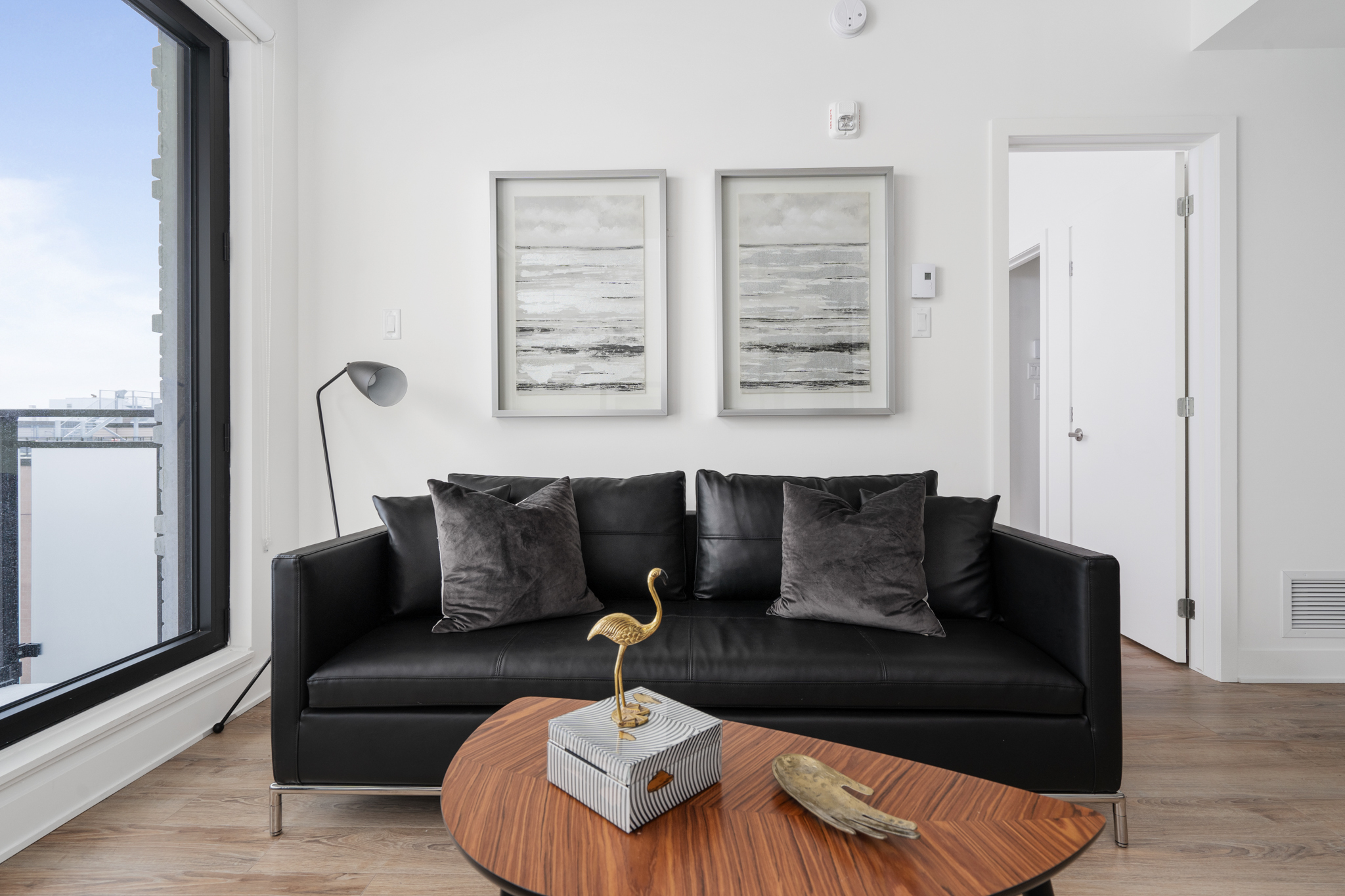 You've reached the end of your downtown condo design journey, it's time to add your own personalized flare, what do you do? Gold or silver is the answer. Yes, you could go the greenery route, but leave that for somewhere else! Look at how these golden accessories marry the warmth and coolness of the NüBerri living room. Now, the apartment is truly complete.